Flax in the kitchen
To design a dining room or kitchen with textiles made of one natural material is a functional solution that many designers use today. Thus, it is possible to achieve the harmony of furniture and accessories, which will complement each other and create a single style ensemble.
We're going to tell you why it is important to pay attention to kitchen textiles made of flax. And also gonna talk about its main advantages over cotton and other materials.
Why exactly the flax?
Flax is so stylish
No material other than flax can create a sense of texture and nature, which are so necessary for kitchen and dining spaces. Textile accessories made from flax will create a special depth in the interior of the room, as well as the right set of color accents. This fabric will match into the design of any space, whether it is a small cozy kitchen or a spacious dining room. An excellent option of interior design will be plain textile accessories. For example, the softened linen tablecloth will look harmoniously with napkins and table runner: it is important that all categories of accessories are different colors. To create a bright mood with the help of color contrast, choose opposite energetic shades, for example, saturated mustard or yellow and combine it with burgundy or dark blue. And to pay attention to the decor of the table, we advise to combine neutral powder colors: light gray or beige.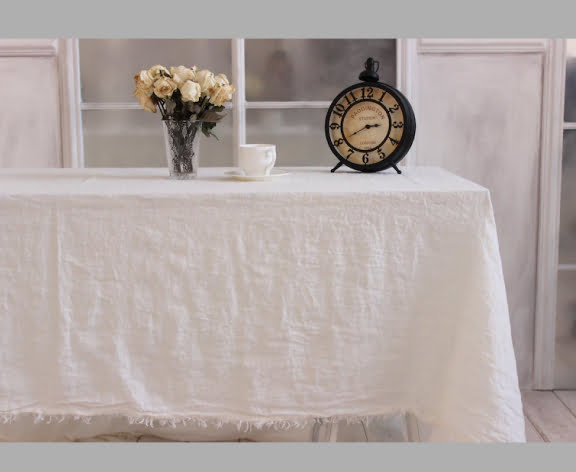 Flax has excellent properties
Eco-design continues to occupy our minds, so our own condition, as well as the state of the environment, have become the main factors of well-being. Flax is considered one of the most environmentally friendly materials. Unlike other fabrics, including cotton, it requires less water and eliminates the use of chemicals in production. Also flax is a fine antiseptic. Kitchen textiles made from this material have an antibacterial effect, which is very important for the space in which the food is located. More importantly, when you wipe the dishes with a flax towel, the material not only quickly absorbs moisture, but also kills bacteria on the surface of the dishes. Softened, pleasant to the touch fabric does not collect static electricity, and also does not cause allergic reactions. This is especially true for large feasts where children or people sensitive to chemical impurities and synthetic materials may be present.
Wear resistance Flax will serve you for a very long time
Wear resistance and durability are key factors in this material. If you want to find tablecloths, towels and napkins for the kitchen, which will serve you for many years – it will certainly be textile made from flax. The material is able to maintain its appearance for a long time; and stains of wine and food are cleaned by any means. If high-quality cotton textiles can survive about 60 washings, then linen linen can be washed more than 300 times! And the material will feel softer and softer. Today kitchen and table textiles made from softened flax are especially relevant, because such material will add texture and will create a special natural atmosphere, which is necessary in a dining room or kitchen. Today in the trend – eco-design that does not pollute the environment, and flax accessories are the ideal option. And the kitchen textiles made from flax will serve you very long and in time will only become softer.