How to choose the size of the curtains accurately
Curtains on the windows are an important expressive element of interior design. Their appearance depends on the perception of the room as a whole. To avoid annoying mistakes when buying drape, you need to calculate the size of the curtains properly. The most accurate measurements are made using metal roulette rather than the usual centimeter tape.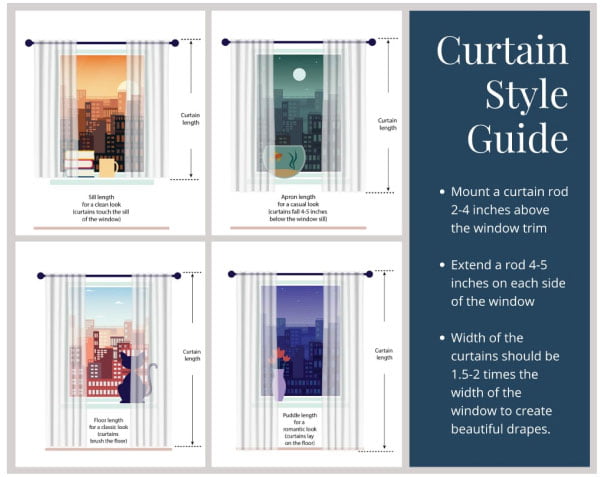 To calculate the width of the curtains correctly and accurately, you need to take into account three values:
the width of the curtain road
material assembly coefficient (in other words, folds)
total length (length is considered from the beginning of the curtain road to the place where the curtain should end)
The properly installed curtain road should extend by 8-10" (20-25 cm) from each side of the window aperture. Such mounting makes it possible to move the curtains freely for the purpose of sufficient lighting of the room.
Attention! A too narrow window can be expanded visually as you wish. The desired effect will be achieved if the curtains close not only the window opening, but also the walls – partially or completely to the corner. All this must be taken into account when measuring the length of the attachment system.
Next you have to decide on the folds, it is depends on the density and texture of the material.
Curtains look more aesthetically
when they're not hanging on the eaves flat screen (although this option is also the case), and beautifully draped folds. The more airy and thin the fabric, the more folds it is allowed:
for tulle, organza, veil folding ratio is an increase in the total width of 2 – 4 times, that is, the width of translucent curtains will be twice, three or four times the working length of the eaves;
for more populous fabrics (silk, satin, chintz, linen, blended fabrics) – the width increases from 2 to 2.5 times;
for tight curtains (velvet, taffeta, jacquard)- the increase in width can be from 1.5 to 2 times.
The length of the curtain is the distance from the curtain road to the selected level. The length of the curtain is selected according to the style of the interior and tastes of the owners.
The curtains can:
Reach the floor
Lie on the floor
Be on the same level as the window sill
be below the window sill by 4-8" (10-15cm)
How the curtains can be fasten:
Tab top
Hidden tabs
With ties
With road pocket
With rings
Calculating the size of the curtain on the window seems to be difficult only at first glance. Difficulties recede when you know how to do it.